Keisuke Saka: Climate Change Mechanical Paper Modert Art Gift Set
SK05
$15.99
Product Details
---
Keisuke Saka: Climate Change Mechanical Paper Art
Imported from Japan.
Believe it or not, the price of $15.99 includes free shipping!
Designed by Keisuke Saka, titled "Climate Change". When assembled, you curn the yellow wheel and watch the Penguin flap up and down as it tries to fly. A very unique gift idea from Japan which provokes thought about the hot topic of climate change.
Keisuke Saka is one of Japan's most honored paper engineers. His beautiful designs are thoughtful with only a few moving parts, yet they produce an elegant movement. This kit requires cutting (scissors and a craft knife), folding, and gluing (white school glue) in order to assemble. Each one takes less than two hours of time to complete.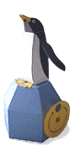 1.
Lowest Price Guarantee on this product.
2.
Free shipping, includes insurance and tracking.
3.
Sign up for 'Super Saver' & get 5% off towards future purchase!
FREE SHIPPING WITHIN THE US!
In stock, usually ships in 1 business day.